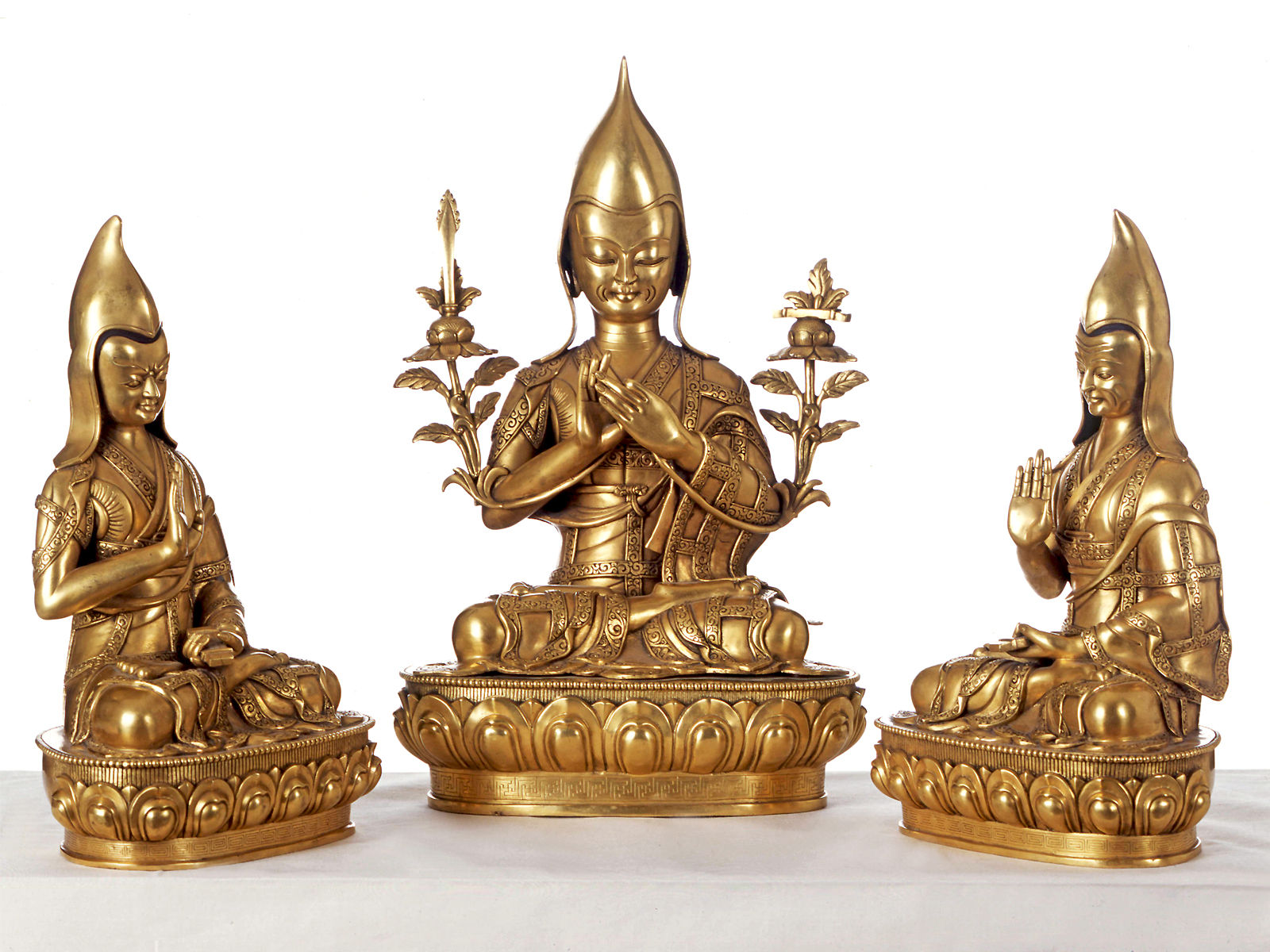 Information about statue production
Traditionally, the method of cire perdue is chiefly used for producing normal sized statues in Nepal, i.e. with a negative wax mould.
The sculptor perceives this time consuming procedure as a ritual: it is possible for him to positively influence his karma by working on a sacred statue.
Around a clay core, which roughly reproduces the contours of statues to be created, the tiniest details are carved into a wax model. This model corresponds to the proportion and form of each iconographical guideline. The wax model is then carefully multi-layered with a fine clay substance. When the figure is heated, causing the wax to melt, the mould remains as an outer clay layer and an inner clay core.
The main casting material is copper or metal alloys based on copper, such as bronze. Silver or gold is only seldom used as a casting material.
After the metal has cooled, the outer clay shell is shattered, destroying the casting mould. The resulting reproduction of the wax model - the raw casting – must now be reworked in a time-consuming process. Once the surface of the statue has become smooth, there are various methods for refining the appearance.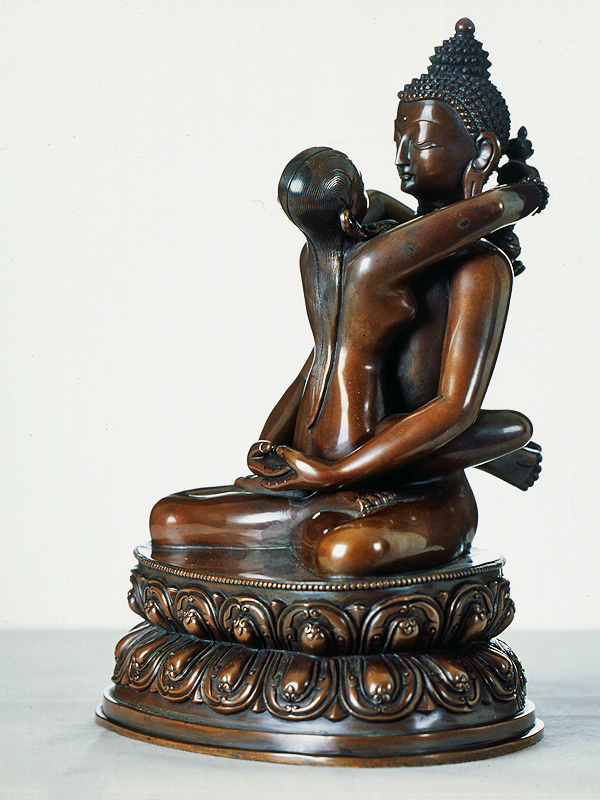 As in the past, many statues today are entirely fire-gilded. Others are patinized, acquiring a shiny bronze optic after extensive polishing. So-called three-coloured statues are partially fire-gilded and given a brownish tan, while the face is adorned with a layer of gold powder.
When it comes to surface treatment, stone finishes, i.e. the metal casting is given a stone like appearance, is rarely seen workmanship.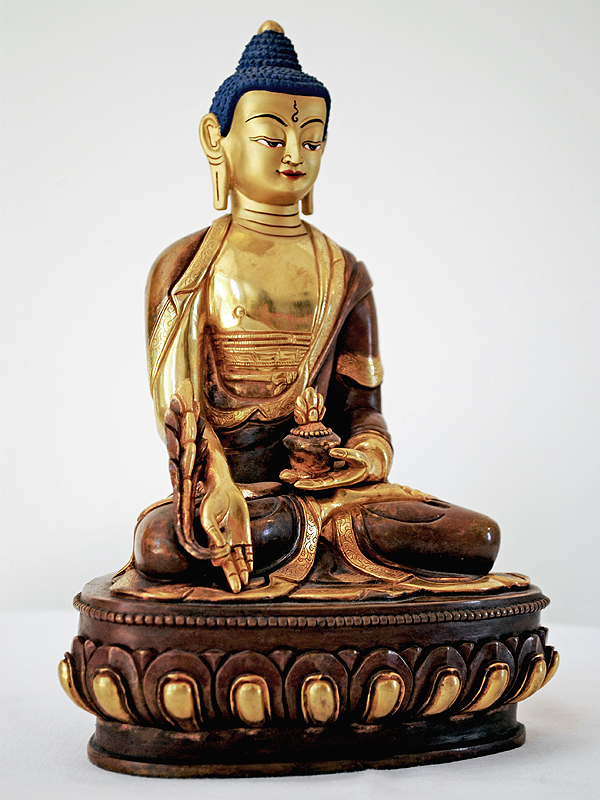 Information about thangka production
A great deal of thangka production today is made in Nepal and then sold locally to Western tourists. Many art workshops now focus on producing scroll paintings as quickly as possible, as their priority is keeping production costs low. As a result, they have little regard for the use of traditional materials, iconography and fine artistic craftsmanship.
And so it becomes crucial to have artists who can preserve this cultural asset by producing thangkas with the true iconography, based on centuries of tradition.
The picture medium is usually a fine cotton cloth or, in rare cases, linen or silk. The cotton cloth is primed on both the front and back with a mixture of lime and animal glue, then smoothed and stretched tightly over a wooden frame. Next, charcoal is used to apply the preliminary design in accordance with strict iconometric rules and by means of a precisely defined pattern. Stencils or printing blocks are sometimes used for this purpose.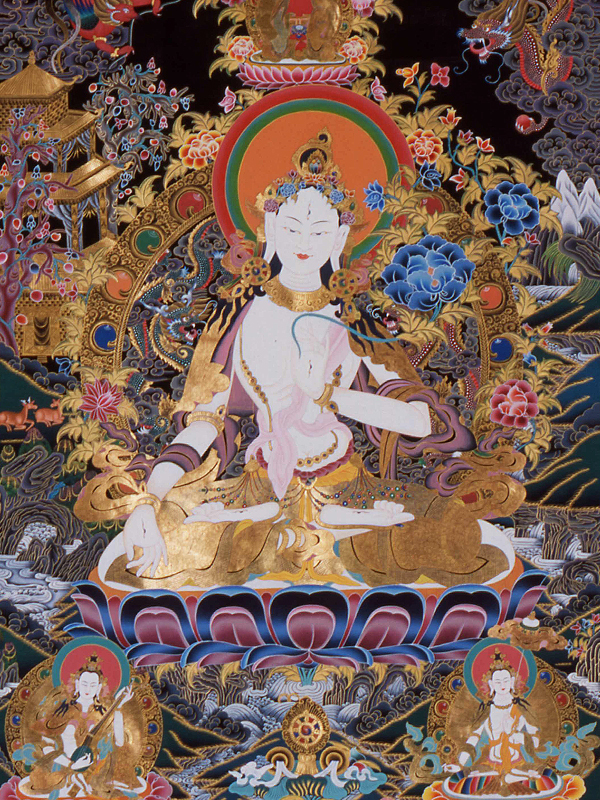 Even after the introduction of synthetic paints, traditional thangka art still mainly uses natural pigments. Gold leaf, gold dust and silver leaf is also used for particularly valuable creations.
The painting technique can be described as glue tempera, i.e. animal glue is used to bond the individual paint particles together and stick them to the painting surface.
The paint is applied layer by layer, beginning with the light colours and then the dark; the large background areas are painted and then the figures, and finally such details as the golden jewellery or garment patterns.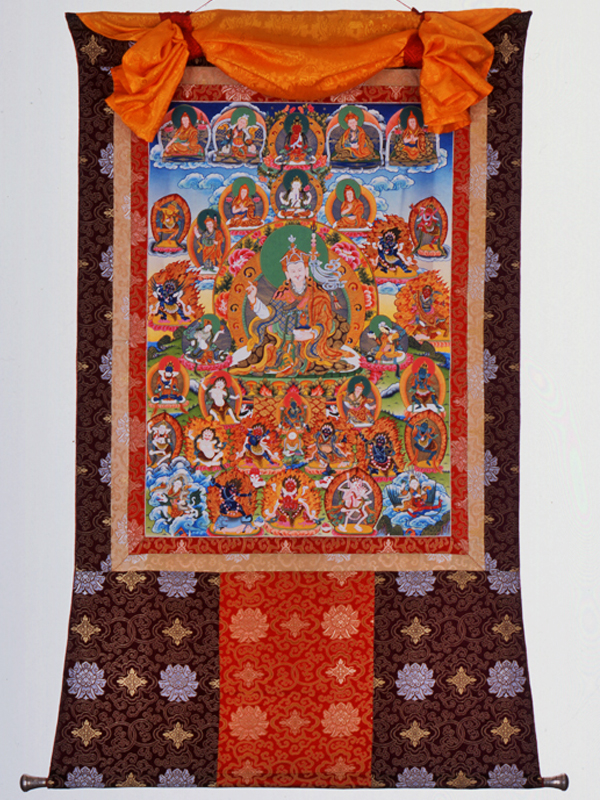 As with statues, thangkas are not signed by the artist. Creating thangkas is seen as a ritual process by which the artist hopes to positively influence his karma. Any mention of their name motivated by ego would detract from its merit.
Furthermore, most scroll paintings are created through collaboration with different painters. Artists with different levels of training - from apprentices to masters - work together, depending on the degree of difficulty, from the priming of the background image to the fine drawing of the characters' faces. Scroll paintings produced by only one artist are considered a rarity.
Upon completion, canvas paintings from Tibetan Buddhism are traditionally framed in precious silk brocade or damask.